We provide creative avenues for women to find safety, connection, and wellness.
Freedom is won through community.
At DIVAS Who Win, we meet women where they're at and look for every possible opportunity to help them
D
evelop
I
ntentional
V
ictory
A
nd
S
uccess.
We define success as connection. When women recognize they no longer have to struggle alone but, instead, have a family of fellow overcomers who understand and champion them, they become empowered to embrace wellness and pursue their goals.
You can join the fight for freedom.
Three places that offer whole-life healing.
When a woman realizes she has a support system that won't let her fall, transformation can begin.
Open for women to come and go during business hours, the Freedom Center is focused on restoring dignity and dissolving shame.
When women enter for the first time, they're greeted by our founder, Chanda, or one of our peer coaches, all of whom are survivors of trauma and have overcome addiction themselves. Throughout their initial tour, women hear stories of survival and clearly see that, with the right support, wellness is within their reach. From here, they're given free access to an array of programs: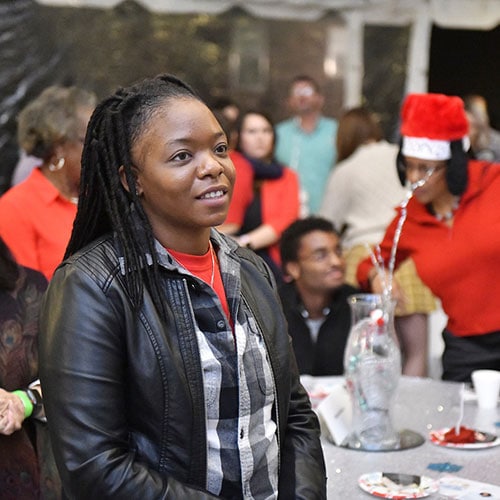 Work-Readiness Program
She Works is a program designed to help women reintegrate into the workforce. Through this program, they can complete a 25-hour soft skills certification class, receive help building their resume, participate in mock interviews, and use internet-accessible computers and free printers. We offer a free professional clothing closet for women to shop from when preparing for interviews and also provide transportation to job interviews if needed.
Self-Care Parlor
In our Self-Care Parlor, we provide hairdryers and styling tools, make-up, and personal care items for women to use. There are also clothes, bras, jewelry, and shoes, all available free of charge, to ensure women have everything they need to feel prepared and confident for an interview, a court date, or anywhere else they need an extra boost of confidence.
Faith Pathways & 12-Step Programs
We take a Christ-centered approach to freedom from the bondage of sex work and recovery, including traditional 12-step recovery programs and weekly faith-based peer recovery check-ins.
Resource Center
We have a space in our center designated to connecting women with resources they need. A peer coach will help them navigate the wide variety of brochures and free information available. There are local farmer's markets offering help with food, gyms providing discounted memberships, nearby domestic violence shelters open 24/7, and many other services being offered in our region to help women experience whole-person healing.
Community Kitchen
In our Community Kitchen, women can always find free hot soup and fresh produce to nourish themselves and their families. We also happily deliver meals as needed.
Art Center
Some trauma doesn't have words. Our Art Center offers classes and open art time for women to create something beautiful and find healing through expressing their feelings in a variety of ways.
Retreat Center
The Retreat Center is a place to relax and be pampered. A professional massage therapist, who is also a survivor, comes in and offers free massages as a way of caring for hurting women and extending them the same support she herself received.
Living Room
Our Living Room is a place for peaceful refreshment, connection, and rest. Some women come here to catch a nap or get out of the weather for a bit. Others enjoy it as a place for quiet one-on-one conversations.
Leisure Room
The Leisure Room is where the party's at! Netflix and Hulu are available on the TV, coffee and tea are always in full supply, there's a selfie station for capturing fun moments, and the space is usually ringing with laughter. It's also a great space for holding peer group meetings.
(SHE Retreats Center)
Divas Tour Part One
Living Room
Divas Tour Part Two
Self Care Parlor
Divas Tour Part Three
Leisure Services Room
Divas Tour Part Four
Community Kitchen
Divas Tour Part Five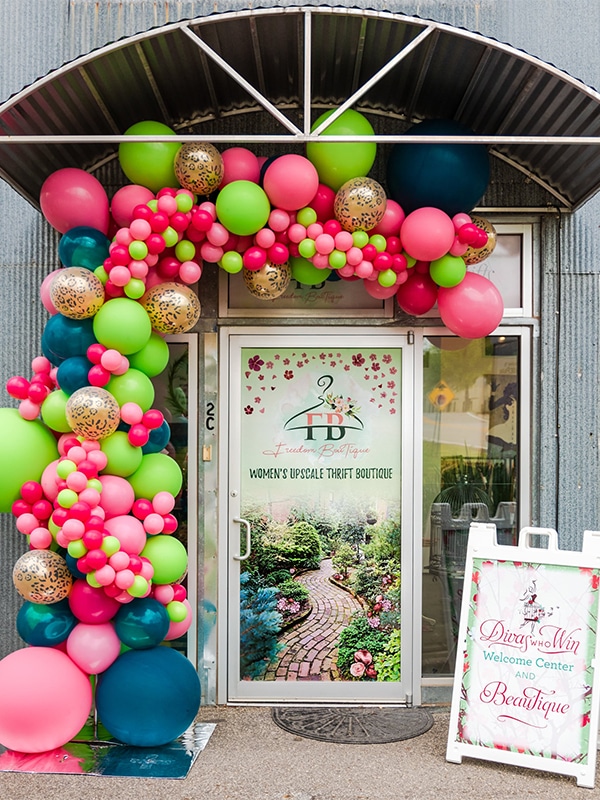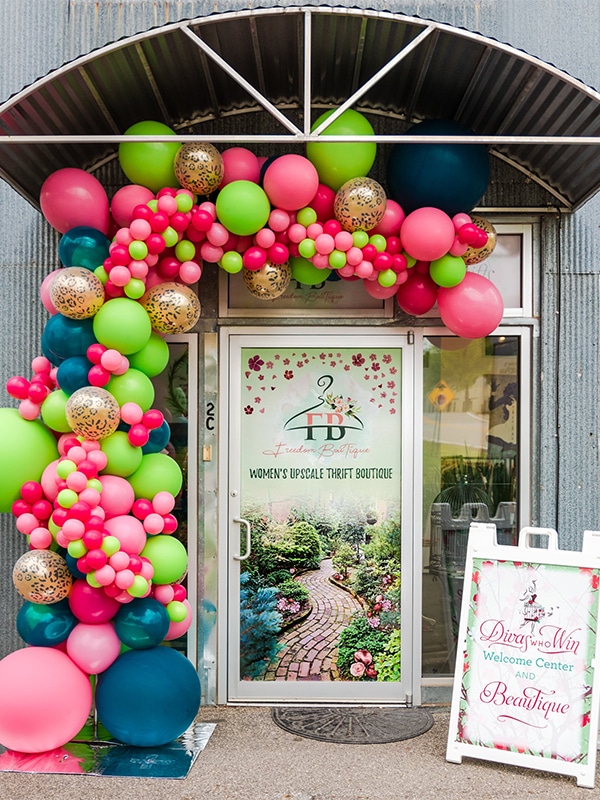 Welcome to the
Freedom Boutique
, the walls are adorned with anti-trafficking messages and shelves filled with "power" as we boast the creations of human trafficking survivors both far and wide.
You will become obsessed with our preloved line of women's apparel, moderately priced $5-$35. Clothing, shoes, jewelry, intimates, and more. Don't forget to shop our bin section which is priced by the pound, $1.29 per pound, so fill your basket, educate your mind, empower survivors, as ALL proceeds directly support the mission of DIVAS Who Win Freedom Center and our efforts to launch, the Freedom House.
Follow our Facebook page for pop-up dates and clothing drop-off details.
Visit the Freedom Boutique:
Store hours:
Thursday & Friday, 12 to 5:30 p.m.
Saturday, 11 a.m. to 3 p.m.
Freedom Boutique serves three primary purposes:
Providing funds for the DIVAS mission.
Offering dignified employment opportunities to survivors.
Spreading awareness to the community about trafficking risks and realities and the hope for freedom through displays and conversations.
The Freedom House is our highly anticipated next step. We're still in the planning stages for the project, but our vision is to provide a safe house where women can live as they recover from addictions, escape trafficking, or transition out of the sex trade.
We are a sister organization to Thistle Farms and intend to follow their model by creating a therapeutic setting for women to find lasting healing through rest, community, and access to necessary services.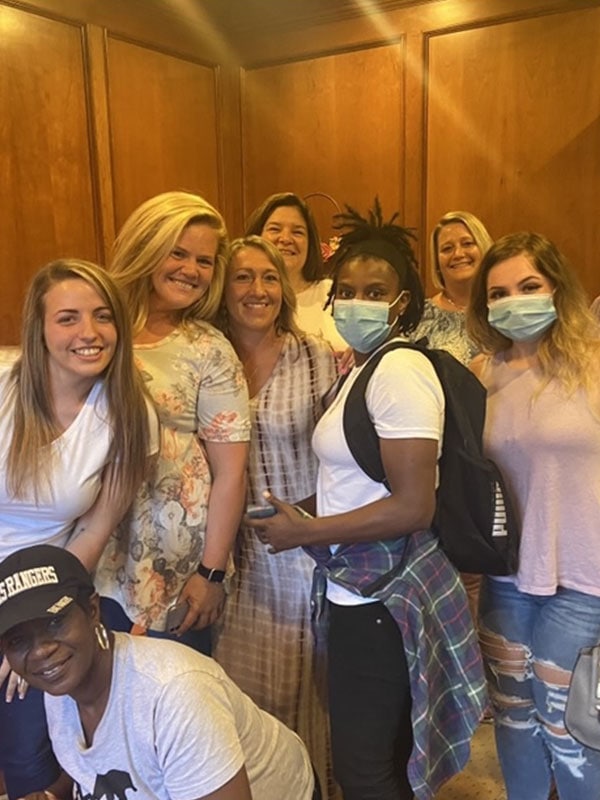 Too many women are trapped in a struggle for their survival.
We have an opportunity to support them as they walk towards freedom.